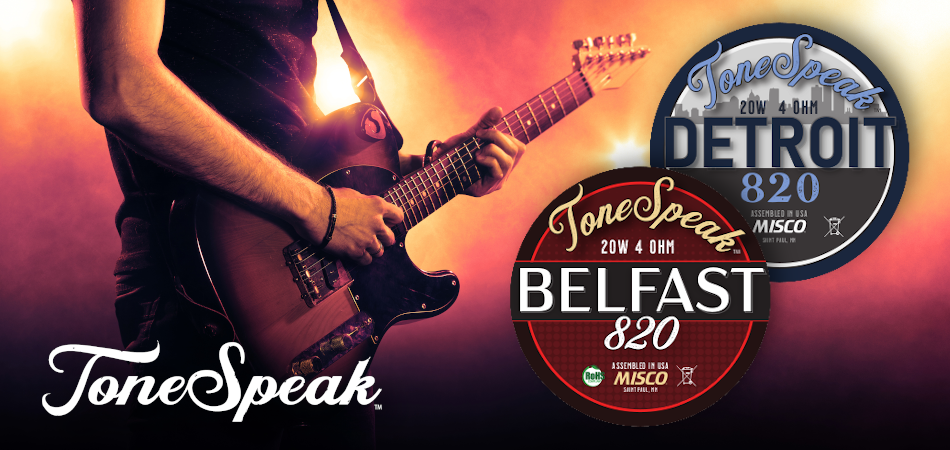 8" ToneSpeak™ Guitar Speakers
---
PLAYED IT ONCE BEFORE BUT IT BEARS REPEATING NOW...
Turn heads with this 8" hemp guitar speaker, the Detroit 820. This model brings out an organic and vintage tweed sound, creating warm and full lows, strong and barky mids, and creamy highs to round out the top end.
The Detroit 820 is the perfect choice for guitarists looking for an upgrade to their blues or rock tone. High sensitivity, a hemp composite cone, a powerful ferrite magnet, dual-lug terminals for easy connectivity, and a sturdy steel basket come together to enhance your style and sound to make you the talk of the town.
---
WHEN YOUR TONE FALLS INTO PLACE LIKE THE FLICK OF A SWITCH...
The Belfast 820 provides players and listeners with a well-tailored and satisfyingly clear response. This model gives your tone a defined contour⁠—open and present lows, soft mids, and glassy/articulate highs—that will make your lead and solo lines soar.
Upgrade your 8" guitar speaker cabinet with this high-sensitivity driver, combining a powerful ferrite magnet motor, a 1" copper voice coil, a paper composite cone, a pair of dual terminals for easy connectivity and installation, with a sturdy steel basket to hold it all in place.
---