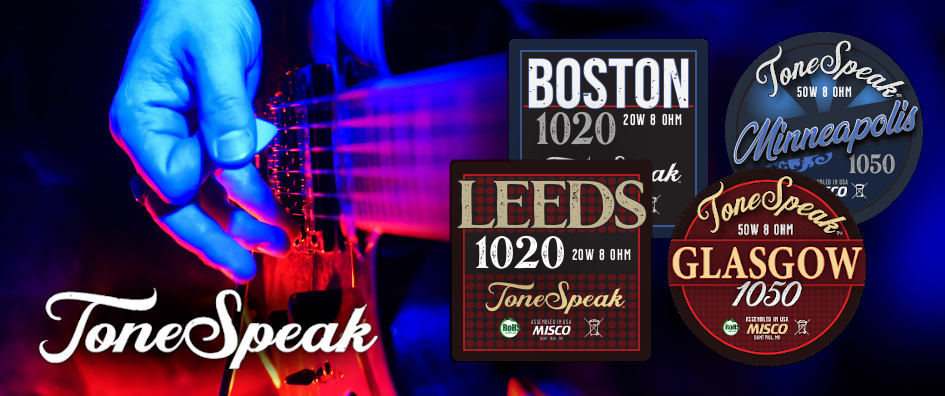 10" ToneSpeak™ Guitar Speakers
GOTTA GET BACK TO THE REAL NITTY-GRITTY...
Create your next signature sound with the Boston 10" guitar speaker. Spotlight your tone with a driver that delivers a heady, vintage tweed quality with tight and percussive lows, twangy mids, and full presence highs.
This model includes a good old fashioned 1960's style Alnico magnet assembly for an ultra-quick impulse response. The often-misunderstood magic of Alnico is that it partially and temporarily demagnetizes when you push them hard, applying a simple compression effect that adds a satisfying sense of sweetness that can't be beat.
YOU SAY YOU WANT A SPEAKER, BUT YOU CAN'T MAKE UP YOUR MIND...
A broad response ideal for either lead or rhythm guitar, as well as deep range for dropped tuning, lets the Minneapolis breathe new life into your tone. An American made, purple paper cone (honoring our favorite local legend), is anchored into a robust steel basket, and delivers chuncky lows, bell-like mids, and crisp, snarly highs.
This 10" model provides high sensitivity by using a high-power ferrite magnet and the same 1.75" voice coil used in the 12" ToneSpeak series; a perfect upgrade for anyone looking to add a little more oomph to their tube amp.
NEVER LET IT BE SAID THAT GUITAR TONE IS DEAD...
Give your listeners a tailored response of barky lows, syrupy mids, and open highs--keeping you in the fray at the extremes while maintaining a nice sense of sweetness in the middle of your range.
This classic 10" guitar speaker delivers a vintage sound, thanks to an alnico magnet motor that softens the tone without losing the immediacy. In addition, a vintage Kurt Müller paper cone maintains a lush, full-bodied sound profile that compliments your playing.
SO IF YOU'RE LONELY, YOU KNOW IT'S HERE WAITING FOR YOU...
In a nod to the great Scottish rock bands, the Glasgow 1050 is the perfect option for guitar players seeking a powerful leading sound at the forefront of any number. This driver's cone is a special, concentrically ribbed paper cone made by guitar-cone expert Kurt Müller, creating a tone profile of gravelly lows, rich mids with detailed overtones, and screaming highs.
Upgrade your tube amp with this high sensitivity replacement driver—a model sporting a large 35 oz ceramic magnet and a 1.75" voice coils used in the ToneSpeak 12" speakers—to pack your tone with plenty of punch.