ToneSpeak Introduces Two New 12" Alnico Guitar Speakers
ToneSpeak has added two alnico models to its already diverse 12" guitar speaker lineup: The Scottsdale 1220 and the Dartford 1220.
When compressed, alnico speakers can produce the most desired "vintage" tonal characteristics, and are a favorite choice for blues, rock and jazz guitarists worldwide. "Guitar speakers with alnico magnets have been around since the dawn of guitar amplification." said Anthony Lucas, ToneSpeak Sales and Transducer Engineer. "Known for their warm tone and fast response, alnico speakers have remained a mainstay among tone purists despite the advancements of more modern magnet materials."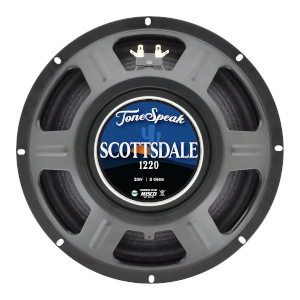 The 12" American-voiced Scottsdale alnico guitar speaker offers full, warm lows with definition. The mids are very even, balanced and natural, with clean, clear and glassy highs.
8 ohm
20 watts
34 oz alnico ring magnet
1.75" voice coil, paper former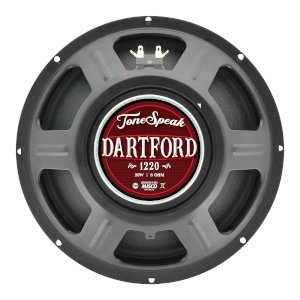 The 12" Dartford guitar speaker is no exception, harnessing the magical combination of alnico with a British paper cone to produce those highly sought after warm, full and throaty mids. The moderately full lows are tight and punchy, while the highs offer the classic bell-like chime.
8 ohm
20 watts
34 oz alnico ring magnet
1.75" voice coil, paper former
British-made cone